Which Aerial and Scissor Lifts Does an MEWP Certification Cover?
Mobile Elevating Work Platforms, or MEWPs, are machines that are specifically designed to move a platform with an occupant, tools, and/or materials to an elevated location. Instead of relying on ladders or scaffolding, an operator can utilize an MEWP for faster and safer work. MEWPs require a certification to legally operate an aerial or scissor lift.
MEWPs used to be called Aerial Work Platforms (AWPs), however recent changes to standards combined multiple types of machines into one category, Mobile Elevating Work Platforms. MEWPs go by many names, such as:
Boom Lifts
Cherry Pickers
Scissor Lifts
Vertical Lifts
Sky Jacks
Genie Booms
Aerial Lifts
Knuckle Booms
What Are The Groups and Types of an MEWP (Aerial & Scissor Lift) Certification
MEWPs are classified into two groups based on their design and functionality, which are differentiated by the platform location in reference to the tipping line, which you can learn more about in our training. This is different from how forklifts and pallet jacks are classified, as those are given a single number one through seven.
For MEWPs, each group (A or B) is categorized by type (1,2 or 3), which is a reference to how traveling is controlled by the operator.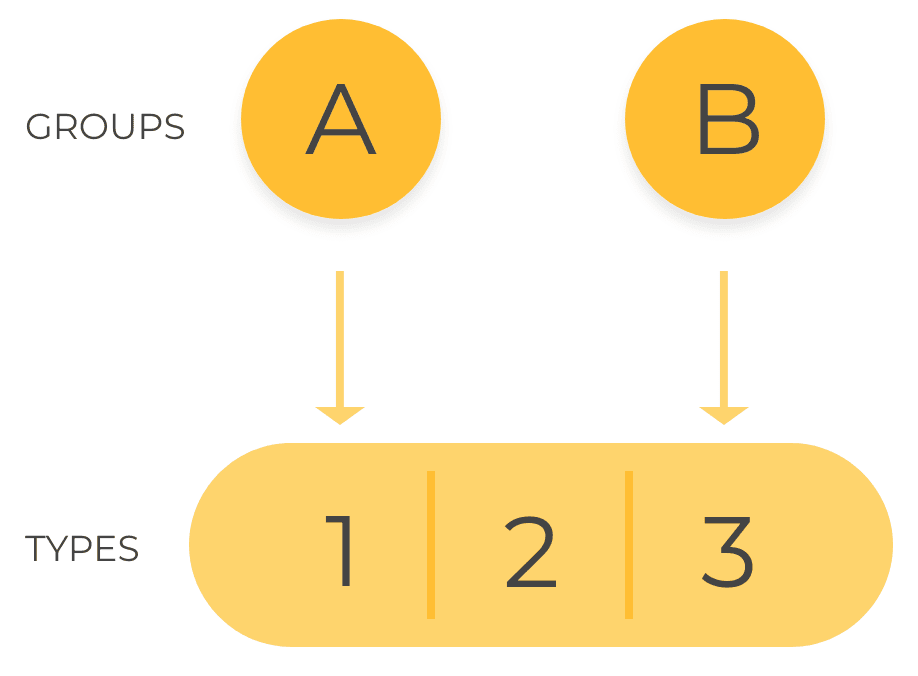 The Different MEWP Groups Covered
There are two groups, A and B, that an MEWP can fall into. The difference between the two can simply be explained by the platform moving vertically only, versus being able to move both horizontally and vertically.
Group A
These are MEWPs that can only be extended within the tipping line. This means that if the platform were to be configured at the maximum inclination, the vertical projection of the center of the platform area would fall within the tipping lines for that design.
This scissor lift is an example of a Group A MEWP. On a scissor lift, there no extension to the left or right, so the platform can only move up and down.
Here's how a scissor lift fits into the tipping diagram from above.
Group B
MEWPs that can extend the platform beyond the tipping line of the lift are considered to be part of Group B.
This boom lift is an example of a Group B lift. The platform can move up, down, left, and right. The center of gravity can still stay within the confines of the tipping lines even though the platform extends past that line. This is largely due to the weight distribution. Most of the weight will sit within the chassis, however if too much weight were to be added to the extended platform, the center of gravity would cross the tipping line.
The Different MEWP Types Covered
Type 1
This type of MEWP can only travel when the platform is in the stowed position. This means the platform cannot move until the chassis is fully secured. With type 1, the chassis does not move, but can extend via the extending structure.
An example of a Group B, Type 1 lift would be the compact crawler boom lift. This lift can only be operated when the chassis is fully secured by the outriggers.
Type 2
A Type 2 MEWP is operated from the chassis instead of the platform. This means that the operator will never be the same person who is on the platform. Some MEWPs allow for controls from both the chassis and the platform.
An example of a Group A, Type 2 lift would be the electric scissor lift, which allows for controls from both the platform and the chassis.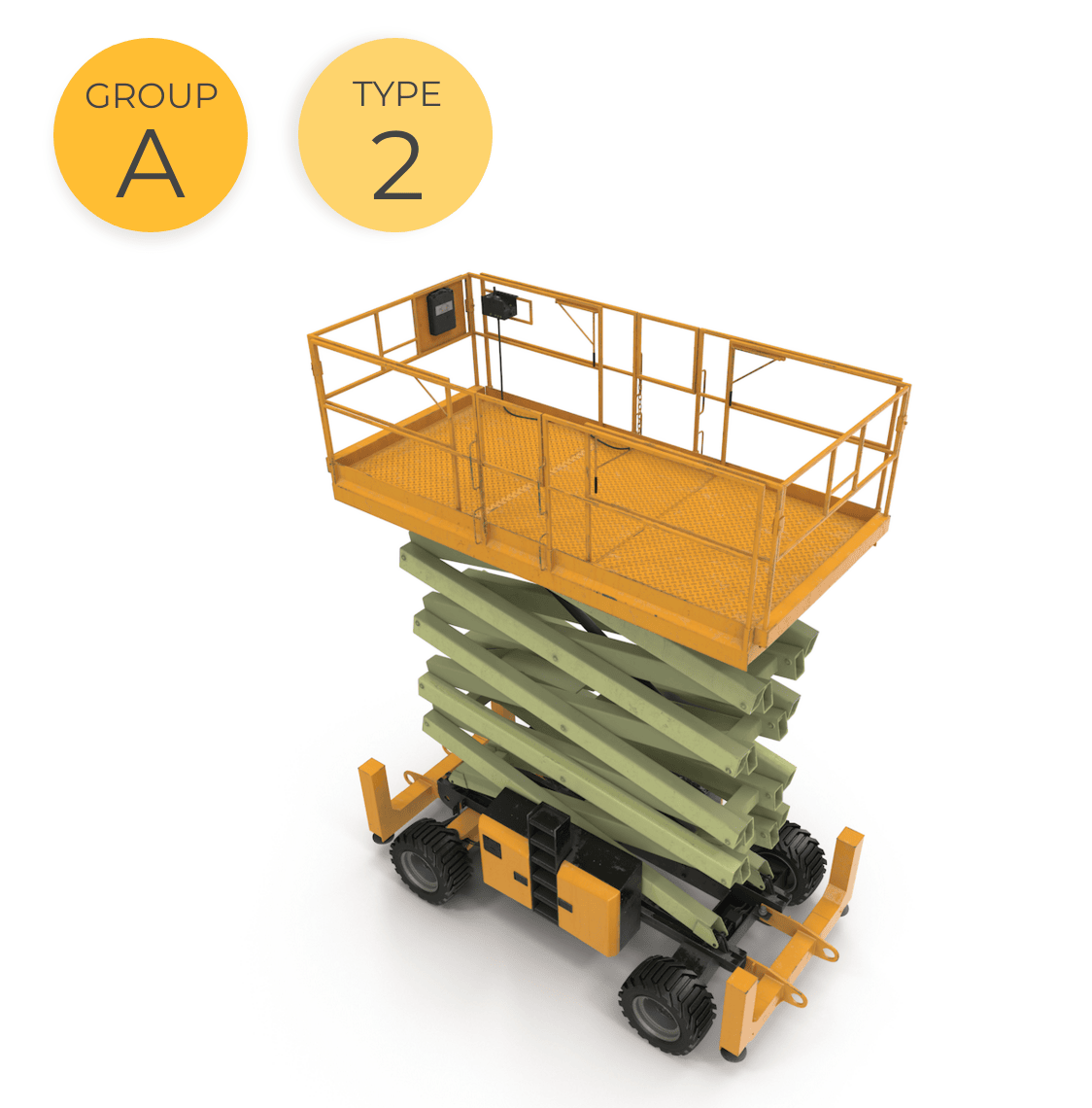 Type 3
The final type of MEWP is controlled from the work platform in the elevated position. For this type of MEWP, the operator controlling the movement of the MEWP will be on the platform.
An example of a Group B, Type 3 lift would be the articulating boom lift. You can see that this lift can be operated and controlled via the platform.
How MEWPs (Boom & Scissor Lifts) Are Classified
Groups and types are used together to classify an MEWP. It is important to know which group and type an MEWP falls under because there are different safety and operational nuances to take note of when operating.
For example, a scissor lift variant can be a Group A, Type 2 or Type 3 MEWP. A boom lift variant can be a Group B, Type 2 or Type 3.
Our MEWP Certification training walks through how to select the right MEWP for the job and which Group/Type is appropriate for the work at hand.
Get Forklift and MEWP Certified Today with Liftoff Certifications
Liftoff Certifications offers some of the industry's most affordable Forklift and MEWP (Boom & Scissor Lift) Operator Certification and Recertification courses and is the gold standard for online OSHA forklift certifications and OSHA MEWP certifications.
If you are ready to give an online forklift certification or recertification a try, get signed up today for our Recertification Course or Certification Course.
For our MEWP (Boom & Scissor Lift) training, get signed up today for our Recertification Course or Certification Course.
We've got you covered with a 100% money back guarantee and we guarantee national acceptance of our OSHA certification.
Comprehensive online course that's easy to read

Nationally accepted OSHA certification

Customer service available via chat to answer questions at any time

Money back guarantee in the event something were to happen

Mobile, tablet, and desktop accessible classes.