Get OSHA Certification & Training In One Hour. Employers Are Hiring.
OSHA Aerial & Scissor Lift Training & Certification
Mobile Elevating Work Platform (MEWP) Certification for Boom, Scissor and Other Aerial Lifts in US and Canada.
Included With Your OSHA Training
Covers Boom & Scissor Lifts

First Time & Experienced Drivers
OSHA, ANSI & CSA Compliant

Instant Certification Access

English & Spanish Included
Includes Cherry Pickers

Accepted United States & Canada
Advanced Online Training For Aerial Lifts and Scissor Lift Operation
Get OSHA certified as an Aerial & Scissor Lift Operator in 3 easy steps:
Enroll in our advanced online training.
Complete Online Training & Exam
Available anytime from any device.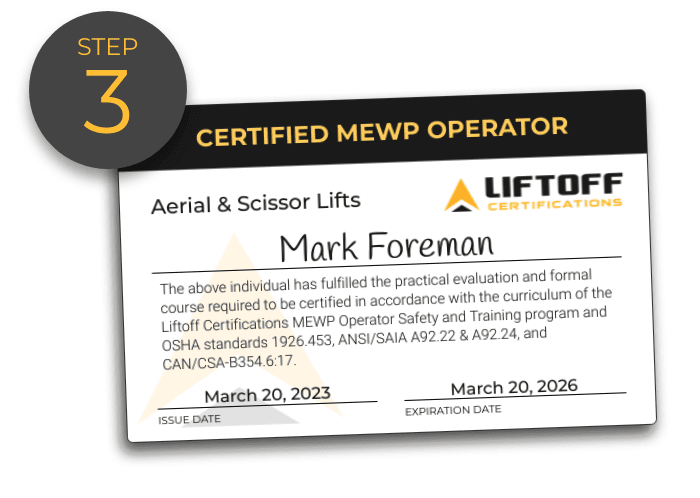 Immediate access to your license.
"Very easy to follow and straight to the point, short and extremely effective. Wish school was like that. Appreciate Liftoff for creating this program. I'm ready to drive and keep coworkers, customers and myself safe while working"

Paul | California
"The training is well thought out and easy to use. The course is a great for a refresher as well as a first timer. Would recommend to anyone and we will be using again for our company."
Jeremy | New Jersey
MEWP Operator & Business Owner
Covers All Aerial & Scissor Lifts
Our comprehensive online training covers the most common Aerial Work Platforms, including:
Articulating Boom Lifts (Knuckle Booms)
Telescopic Boom Lifts (Cherry Pickers)

Scissor Lifts

Vertical Mast Lifts

Truck Mounted & Track Drive Lifts

And More.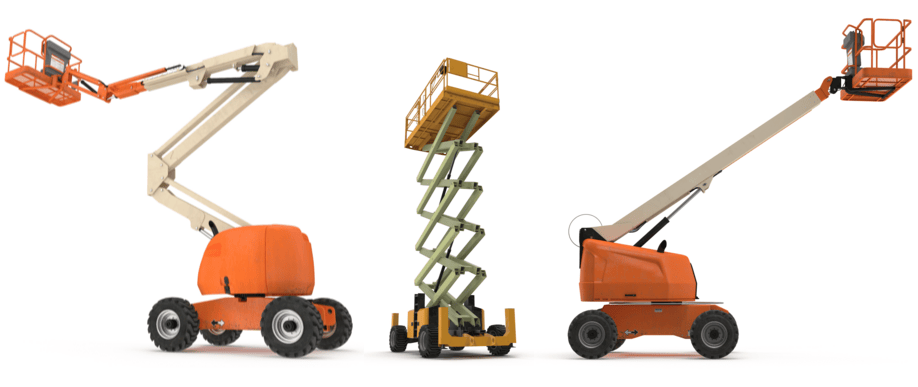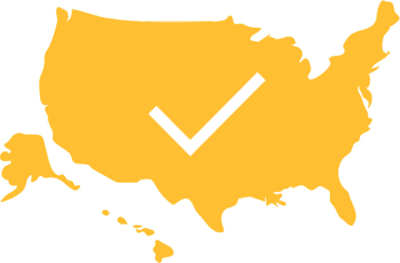 Accepted In All 50 States & Canada
You will receive an OSHA, ANSI and CSA compliant MEWP Operator Certification that is valid in all 50 states and all provinces and territories.
This license is meant for:
Anyone looking to apply for a job as an MEWP Operator
Operators who need to renew due to certification expiration
Employers needing to certify multiple employees.
A 5-Star Course. 100% Online.
Employers and their employees agree – Liftoff Certifications is the best way to complete the OSHA, ANSI, and CSA required safety and training in order to safely operate an MEWP.
Accessible on all your devices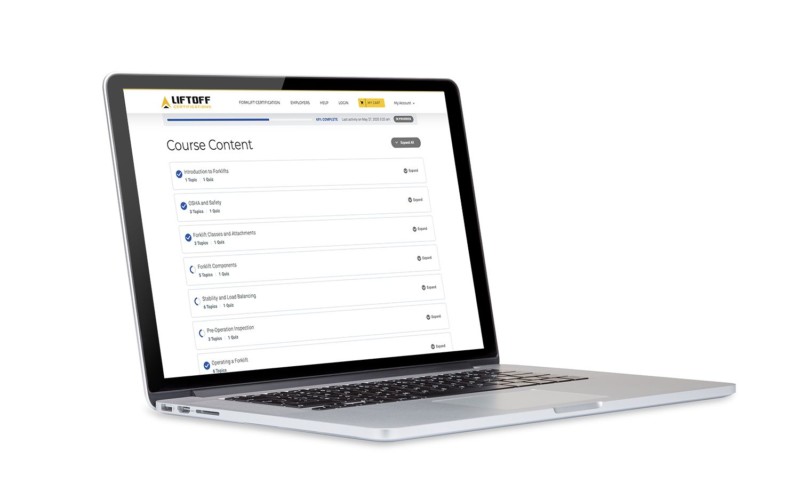 2023 OSHA, ANSI & CSA Standards
Training from Liftoff Certification simplifies the complex aerial and scissor lift regulations. Our OSHA, ANSI & CSA compliant MEWP Operator Safety and Training Certification course includes:
7 Sections covering 22 topics

Follows OSHA Standards (1926.453), ANSI/SAIA A92.22/.24, and CAN/CSA-B354.6:17 (R2022)

Over 25 "Safety Tips" called out

Final Quiz with unlimited retakes
Immediate Access To License
After you pass your MEWP Operator Safety and Training Final Quiz, your new certification will be immediately available for download.
Each certification is valid for 3 years from the date you complete your final exam.
The OSHA, ANSI & CSA Certification Process
With Liftoff Certifications, getting certified online is straightforward and simple. Without going to a multi-day class, you can complete your entire certification online and take the first step in being an OSHA licensed operator.
Low Cost to Certify
With Liftoff Certifications, you're not just getting a course and quick access to a certification, you're also getting it at one of the lowest prices in the industry. With our courses being exclusively online, savings from our low overhead are passed directly to you.
Guaranteed Acceptance
Your employer will accept your MEWP Operator Certification from Liftoff Certifications or we'll give you your money back – it's that simple. Our money back guarantee removes the stress of purchasing a Liftoff Certification course. All of our courses are backed by a 100% money back guarantee, so purchase with confidence knowing we have your back.
Top Notch Customer Service
Our team is ready to answer any questions you may have about the course. Once you purchase, with just one click you can open a direct chat with our dedicated service team. Have a question now? Click the chat icon in the bottom right and we'll point you in the right direction
100% OSHA, ANSI & CSA Compliant
OSHA relies on providers like Liftoff Certifications to provide high quality safety and training for MEWP Operators. All of our courses are built on the standards established by OSHA (1926.453), the Canadian Standards Association B354.6:17 (R2022) and the American National Standards Institute A92.22/.24 and are constantly updated based on the latest guidelines.
MEWP Certification Course Content
Below is the course outline for the certification course. The recertification is a refresher of the certification course and is only meant for those previously certified as an MEWP operator.