What Is Included With An Online Forklift Operator Certification?
Here at Liftoff Certifications, we get this question all the time:
"I'm interested in taking the online OSHA Forklift Operator Certification course, but I don't know what's included with an online certification. Can you help?"
To help answer this question, we've compiled a list of everything that you should expect to get when you certify with any online provider.
Keep in mind that not all online Forklift Certification providers are created equal – so do your due diligence to ensure you're buying a course that comes with all of these features.
OSHA Compliant Forklift Certification
This seems obvious, but always make sure that the course you're signing up for is OSHA compliant.
OSHA relies on online providers to offer courses that follow their standards and guidelines. Liftoff Certifications exists to do just that, but unlike other providers, you gain access to an easy to read course built for visual learners.
Instant Card Access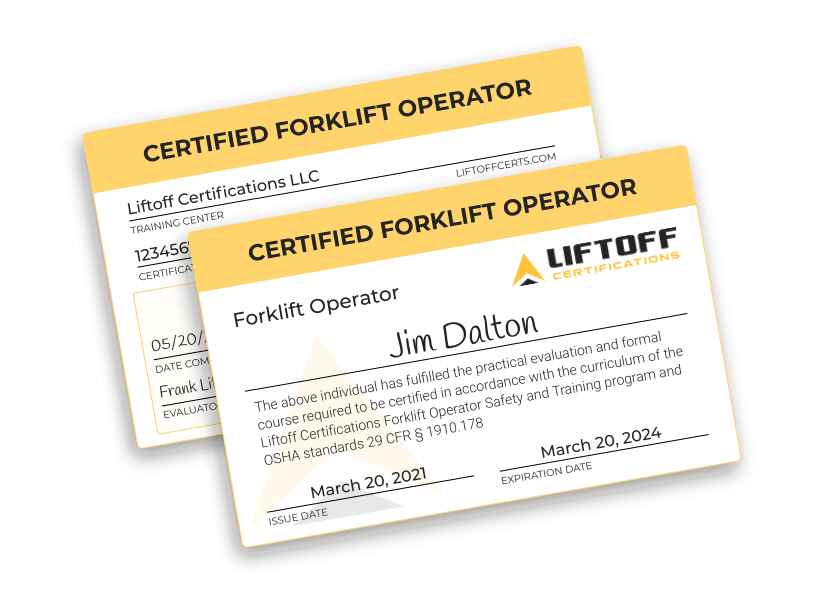 One of the massive advantages of certifying online is that you can pass your exam in about an hour and get instant access to your certification card.
This means that unlike traditional in-person classes, you can sign up for a course, complete that course, and print out your certification card, all in the same day.
3 Year Certification
Per OSHA standards, a Forklift Operator will need to be certified every 3 years in order to maintain OSHA compliance.
When looking for an online provider, make sure that the certification that you're receiving includes coverage for the 3 year requirement.
Unlimited Exam Attempts
When you complete each online course section, you'll be asked to take a quiz that tests your basic knowledge of the material.
The quiz will feature straightforward questions that are not meant to trick you, but ensure that you know the core takeaways.
Mobile, Tablet and Desktop Access
Many of our certifiers and recertifiers choose to complete their course on-the-go – meaning they receive their certification while on their phone.
You may want to switch from one device to another. Your online Forklift Operator Certification course should go with you.
Dedicated Support
There is nothing worse than having to email a question you have about a course and not getting an immediate answer. Having an FAQ is nice, but having instant access to someone can help you get certified even faster.
For example, that orange button in the bottom right of your screen will open a direct chat with our support staff – whether you've already bought or are deep in our course. Make sure that the online course you purchase includes access to a support staff that is available on your time.
Get OSHA Certified Online With Liftoff Certifications
Liftoff Certifications offers some of the industry's most affordable Forklift Operator Certification and Recertification courses and is the gold standard for online OSHA forklift certifications.
If you are ready to give an online forklift certification or recertification a try, get signed up today for our Recertification Course or Certification Course.
We've got you covered with a 100% money back guarantee and we guarantee national acceptance of our OSHA certification.
Comprehensive online course that's easy to read

Nationally accepted OSHA certification

Customer service available via chat to answer questions at any time

Money back guarantee in the event something were to happen

Mobile, tablet, and desktop accessible classes.